Atomic Age Cinema and The Kick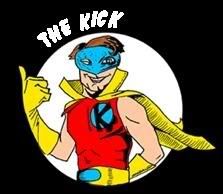 Captain Kosmos was successful in realigning the high-gain antenna on this old meteor-worn Salyut space station, and is back online just in time for a big cosmonaut salute to Atomic Age Cinema's matinee host, The Kick! Every Saturday afternoon at 3 p.m., kids of all ages gather at Bloomington, Indiana's Cinemat video-rental/digital showroom for an hour-and-a-half of classic cartoons, adventure serials, and prizes for everyone.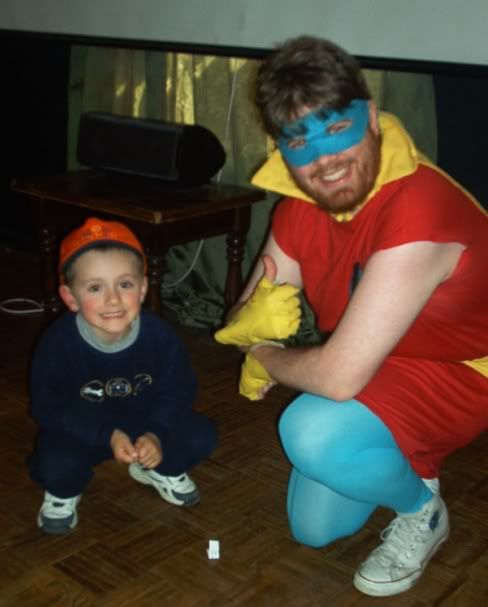 Harkening back to the time of locally-produced children's TV programs, the Kick, Bloomington's mysterious and multi-talented superhero sidekick, introduces the show, does some comic commentary, and usually has a surprise or two for the children. Some of the most popular animated features of the matinee have included international cartoons like Bolick and Lolick from Poland, classic UB Iwerks' Flip the Frog, Fleischer Studio gems including Betty Boop and her pals Koko the Clown and Bimbo, and lots more. It's a great, family-friendly children's matinee, and Captain Kosmos, along with his young space cadet, Ronnie, are regular attendees.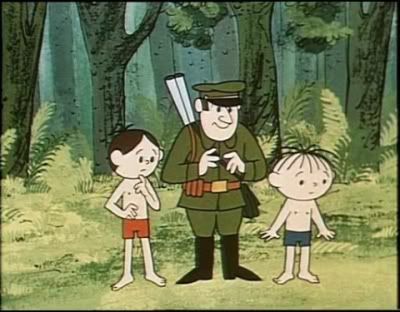 But, alas, the Kick will soon be moving to a new assignment, to increase his vast mental and artistic prowess at the Institute for Cartoon Studies in Vermont. August 5, 2006 will be his grand finale and farewell, and it promises to be a great show. The Kick has done a super job even when ankle deep in theater popcorn or being pommeled by over-excited cartoon-loving kiddos. And so, Captain Kosmos and the Kosmosflot crew send a GOOD LUCK, KICK! message out of our space station's newly-restored dish antenna, direct to your screen.
And, I'm glad to report, there are plans for a new host to carry on the Atomic Age Cinema Saturday matinee tradition. I hope this is true because this program's mix of classic and international cartoons for children is a far sight better than what's offered to kids at the big commercial theaters these days. At a reasonable $3 for adults and $1.50 for kids, it's a lot of fun for a bargain price.
On the darker side, Atomic Age Cinema also presents a horror/science-fiction midnight movie on Saturdays, hosted by Dr. Calamari and Baron Mardi, two of the creepiest and funniest ghouls you'll ever encounter during the witching hour. Some of their more recent features have been The Monster That Challenged The World, Reptilicus, Invasion USA, and Caltiki, The Immortal Monster. Their weekly late-night creep show will be a subject for a future Kosmosflot blog. You can read more about them, the Kick, and their organization at Atomic Age Cinema and Cinephile.
Their venue, The Cinemat,
is located at the corner of 4th Street and Walnut in beautiful Bloomington, Indiana, just south of the downtown square.

D'os Vadanya,

CAPTAIN KOSMOS