Koshka en Español, S.K.E.T.'s Baikonur, DIA Art, and More
Koshka en Español
My SF flash-fiction story KOSHKA
was well received and garnered many positive comments. Thanks to everyone who took the time to write and post their words of encouragement. And I was pleasantly surprised to discovered KOSHKA has been translated para los que hables Español, in Spanish, at Bestiario de Lirios. I have three new stories submitted to 365 tomorrows, SEE FOOD, EXECUTIVE BONUS, and PRESS CONFERENCE AT MARCH FIELD, so wish me luck and perhaps they'll be accepted for publication.
Here is KOSHKA en Español:
Koshka
by Viktor Kuprin
"Esta es la última llamada para evacuación. Todos debemos irnos. Vayan al parque por agua, alimento y atención médica. Si no pueden moverse, llamennos o hagan un ruido, e iremos a ayudarlos."
El espacial Kuzmin trató de no mirar al expandido y rojo sol mientras caminaba por las desiertas calles urbanas. Nadie había salido a pesar de que había mandado el mensaje tres veces en cada cuadra de la ciudad tal y como se le había ordenado. Solo los tontos o locos esperarían tanto, pensó. El inestable sol que los lugareños bautizaron como Sosnovka acabaría pronto con este miserable mundo.
El detector de movimiento titiló, y Kuzmin se detuvo. Algo en las sombras de un callejón, pero no podía ver a nadie ahí. Afinó el parlante externo de su casco.
"Sal. Soy un CIS de la fuerza espacial. Tengo agua."
Entonces lo vió. Lastimoso y polvoriento, un enorme gato callejero salió tambalenadose del callejón y perdió el sentido en la vereda caliente. Carraspeó y jadeó por aire mientras miraba a Kuzmin, con la lengua colgandole del hocico. kuzmin tomó suavemente al gato y lo levantó de los flancos.
"Pobre viejo koshka, te dejaron atrás? Aquí, un poco de esto."
Llenó su mano con el agua de su tubo de bebida y lentamente, cuidadosamente, dejó gotear el fresco líquido en los labios y lengua del gato. Este empezó a lamer y a tragar.
Kuzmin bajó el cierre de su traje ligero. El aire se sintió como el calor de un horno contra su pecho. Lentamente, acomodó al gato dentro de su fresco cubretodo. Y ahí se quedó, sin queja ni molestia. Pudo sentir al viejo gato zumbando débilmente, tratando de ronronear.
Y así, continuó hasta completar su ruta, sin que otros vagos, humanos o animales, fueran hallados
Mientras Kuzmin volvía al centro de evacuación, vió a otros que habian tenido éxito. Los últimos habitantes de Sosnovka Prima formaban un triste grupo. Dos de sus compañeros llevaban a la fuerza a un lunático que los maldecía por sus esfuerzos. Otros ayudaban a una mujer groseramente gorda, cuya sudorosa piel blanca indicaba un severo ataque de calor. Chicos sucios amontonados, miraban ansiosamente a las naves de tranporte.
Kuzmin estaba reabasteciendo su tubo de agua cuando una mano lo sujetó del hombro y le hizo dar vuelta sobre sus talones.
"Durak! Idiota! Te dije que el saqueo está prohibido!"
Era el teniente segundo Burkhanov, el comandante de sección. De un tirón, abrió el frente del traje de Kuzmin. Una peluda cabeza naranja de orejas aplanadas y ojos asustados le devolvía la mirada al oficial.
"Pero que?! Kuzmin, deshazte de esta … infección! Puede tener enfemedades! Me entiendes?!"
Kuzmin negó con la cabeza. "No, señor. Lo siento. No lo dejaré aquí a quemarse."
Los ojos de Burkhanov se abrieron de ira. Pero se contuvo. Era raro que un recluta de los hombres del espacio rechazara una orden. Y nunca Kuzmin, uno de los más hábiles.
"Bah! prepárense para partir!" Se dirigió hacia el transporte.
Al pasar de los dias, el viejo gato se acostumbró muy bien a la vida de la nave espacial. kuzmin estaba en la sala de descanso, dandole unos cuantos peces sproti a su mascota cuando un tripulante gritó "Ya empezó!" Todos dejaron su comida y corrieron a las ventanas.
El punto crítico había sido alcanzado: Inmolación. Oleadas de fuego barrieron el planeta vecino.Un hombre cerca de Kuzmin resolló y se santiguó. Era Burkhanov, el rostro triste iluminado por esa tormenta de llamas infernales.
Kuzmin vió nerviosamente como el viejo Koshka vagabundeaba entre los tobillos del oficial. Quedó sorprendido cuando Burkhanov lo levantó, lo puso contra su hombro y comenzó a acariciar al refugiado más pequeño de Sosnovka.
S.K.E.T.'s Baikonur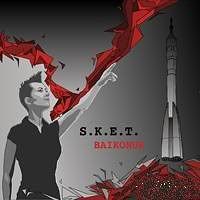 While searching for a good map of the Baikonur Cosmodrome, I discovered this interesting album by S.K.E.T. According to their myspace.com narrative, "We attempt to bring principals of Social Realism to bear in the creation of our music. Social Realism has a history in the former Warsaw Pact and communist states, and variations of it are found in Libya, Northern Ireland and Chile. Its popularity as an art form ran from the 40's to the 70's. We aren't highly political, but are intrigued and amused by the militaristic aspects of Social Realism."

Here's a great write-up on their Baikonur CD, posted by der5pezialist at
www.virb.com
:

Baikonur is a second HANDS[production]-album from noise revolutionaries S.K.E.T. , taking you off from Mother Earth straight up to the stars! This is an exciting journey through Soviet Space Program, from Sputnik launch to the catastrophe of Sojus11. All machines working in full power and force! Giant engines roaring! Radars bleeping! - That's the harsh beat of technological progress! Baikonur is a dynamic concept-album of hidden melodies, amazing rhythm patterns and great dreams of Mankind. - Attention! System activated! - All units working! - Ignition! - POYEHALY!
The Defense Intelligence Agency's Military Art Collection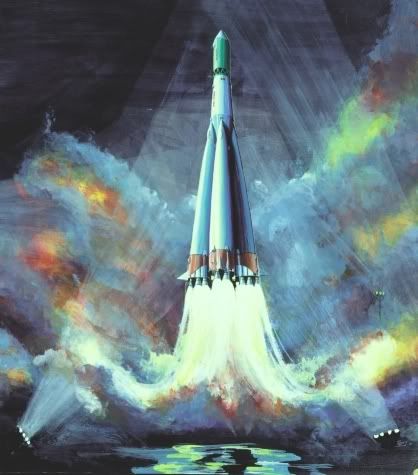 You can find some excellent Soviet spacecraft and military art created for the Defense Intelligence Agency's Art Collection, including this 1978 painting by Richard Terry of Yuri Gagarin's historic launch into orbit. The U.S. Department of Defense, lacking photographs of the USSR's latest weapon systems, commissioned the artwork for use in its annual threat-assessment reports. Some of them appeared here and there in various books about the Soviet navy and air forces.

Two of the more unusual are the YAK-25RM Mandrake, the Soviet version of the U-2 spyplane, and the Wing-In-Ground Ekranoplane, often called the "Caspian Sea Monster". Those two are close to my heart because they were also subjects of paintings for the 2005 Armenian Aviation Art Project which I organized while living in Vanadzor, Armenia.



Counting Down to ConGlomeration

There's only 37 days until the

ConGlomeration 2007

SF convention in Louisville, Kentucky. Ben Bova and Allen Steele will be the author guests of honor; and Daniel Dos Santos will be the artist guest of honor. The full programming schedule is due to be posted any day now, but if last year's schedule is any indicator, it will be a great convention.


Until next time, D'os Vadanya.

CAPTAIN KOSMOS