365 Tomorrows Stops "Connected Stories"
The good folks at 365 Tomorrows will no longer accept "connected stories" like my Kosmosflot series, even though they are independent, standalone tales. In other words, no recurring "universes" like mine, no recurring characters, aliens, or scenarios. Apparently this isn't a new rule, but is simply one that has lapsed as the site has grown in readership and the number of writers offering submissions. I'm not happy with the policy, but a writer must respectfully bow to the editors' wishes or else move on. I have too many Kosmosflot stories yet to tell, and I will continue writing and submitting them to other venues. And, as I have always done, I will continue to submit non-Kosmosflot flash-fiction stores to 365 Tomorrows.
Here's my Kosmosflot goodbye message that I posted at 365 Tomorrows: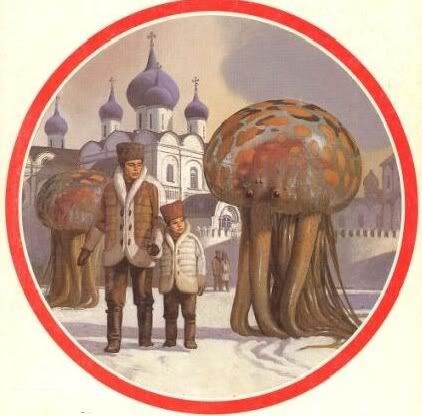 "What are those things, Poppa?"
"They're aliens, son. They're called the Tsoor."
"But why are they here?"
"They used to live in America, but they got kicked out."
"Did they break the rules?"
"I guess so, Serosha. Now they have to find a new place to hang out."
"That one looks sad, Poppa."
"Don't worry. They'll be fine, I'm sure."