Outer Space Theater on Ray Gun Radio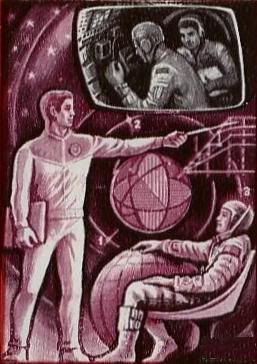 You can hear my flash-fiction story
Outer Space Theater
on the December podcast of
Ray Gun Radio
, along with an interview of yours truly. The wonderful adaption of my short story was created by Don Abbott Studios, and playing the lead role is none other than "Commander Don" himself, Don Abbott, who hosted the Buck Rogers TV broadcasts that I watched as a boy. I was totally surprised when I received the radio-show style production, so Christmas came early for me. Thank you, Commander Don, for the wonderful present, and I hope you all enjoy hearing it.
Ray Gun Radio Episode 18 - Outer Space Theater Podcast
The holiday season is a long one at my house. For my wife, who lived in Moscow for many years, the big holiday is not December 25. New Year is the time when people in the Soviet Union celebrated the most. That's when they put up the
yulka
, the holiday tree, though more often than not it probably had a big red star on top instead of an angel.
Our Christmas and New Year wish this year is for the U.S. Embassy in Yerevan, Armenia, to grant a tourist visa to my lovely sister-in-law, so that she can visit us in America during the New Year holiday. It's tough to get such a visit approved, but we're hoping and praying that it will happen. And I hope everyone reading this has their holiday wishes come true, too.
Merry Christmas, and S'Novim Godim (Happy New Year!) to all!
Viktor Kuprin
Technorati tags:
science fiction
,
sci-fi
,
sf
,
Christmas
,
flash fiction
,
New Year
,
Buck Rogers
,
television
,
podcast
Labels: Buck Rogers, Commander Don, Don Abbott, flash fiction, podcast, sci-fi, science-fiction, short fiction, Soviet Union