Context 20 SF Convention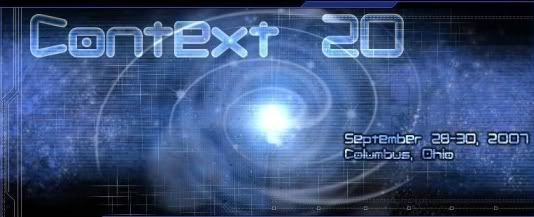 This weekend I'm enjoying the sights, sounds, and good company at the Context 20 science-fiction convention in Columbus, Ohio. Here's the event's web page:
Context 20
I arrived late Friday evening and only had time to catch some anime (Black Cat) and get a glimpse of Editor Guest of Honor Mike Resnick in the hospitality suite. The programming schedule looks great, even a "Tactics Used in Military SF" panel.
Okay, it's early Saturday morning and Captian Kosmos' crew is howling for breakfast, so look for my followup posts about the convention.
D'os Vadanya