The Radiation Angels: The Chimerium Gambit
One of the highlights of the Context 20 science-fiction convention for me was getting to meet James Daniel Ross, author of The Radiation Angels: The Chimerium Gambit (ISBN 1-59426-210-1) from Mundania Press. If you enjoy action-packed military science-fiction (as I do), keep tabs on this new author. Here's the novel's blurb:

When civil unrest strikes a planet, when invaders get past the navy and start their ground assault, when terrorist forces attempt to topple a government, you can call for help. Planets contact the last vestige of ground soldiery: Mercenaries. As long as the mercenaries get paid, as long as everybody plays by the rules, everything is fine.

Captain Todd Rook is in charge of an elite fighting force: The Radiation Angels. Armed with searing plasma cannons, armor piercing railguns, or semi-smart explosives, these are the high tech warriors who get the dangerous jobs done. Though contracted to enter battle on Ashley 9, at every turn it appears that their employers are set on making their job as difficult as possible.

They were promised generous pay, an easy battle, and spoils of war.

All these promises are broken.

Faced with economic ruin, Rook decides to bet his life and the lives of the Angels on a long shot that will put them all in mortal peril. It's a gamble that will take them across the known universe to the most lawless planet in all the colonies: Mars. Chased by cyborgs, enemy mercenaries, and an aerospace task force, Rook has bet that everything he cares about up...

The Chimerium Gambit.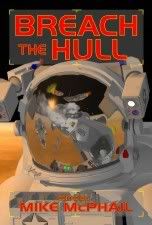 A Radiation Angels short story by Dan will be part of the soon-to-be-released Breach the Hull anthology (ISBN: 1-892669-43-9) from Marietta Publishing, and he'll be appearing at PHILCON 2007: The Philadelphia Conference on Science Fiction and Fantasy, 16-18 November 2007.


Dan was an active Context 20 panel member, speaking on topics like "Electronic Publishing, Print-On-Demand, and the Death of the Book", "Getting the Most Out of Gaming", and "I Really Did It (Got My First Novel Published), But How?" If you get a chance to hear Dan's anecdotes about writing, getting published, and his military science-fiction, you're in for a real treat. Just don't ask him to read any poetry. It upsets his stomach.

Thanks, Dan, for your contribution to a great convention, and thanks for a great read, too.
Labels: James Daniel Ross, science-fiction, writing