Ptushko's Ilya Muromets -
The Sword and The Dragon
In 1960 my great-aunt Ethie passed away, and my grandparents had the sad duty as executors of her estate. My grandmother, Ollie Marie George, and her sisters all had old fashioned names which you don't hear much anymore: Ethie, Novie, and Ollie, my "Mamaw". I was five years old, barely big enough to understand why we were going to Bedford, Indiana, where Aunt Ethie's home was located. Bedford and its surrounding towns are famous for their limestone quarries. The Empire State Building, The Pentagon, and many other famous buildings were built with Indiana limestone.

During one of the trips to Bedford, we stopped at a newly opened IGA "Foodliner" supermarket. I think my grandparents, so used to shopping at small general stores, were somewhat intimidated by the long, confusing rows of products and the bright fluorescent lights. At the front of the store was a comic book rack, a treasure before my eyes. My family used a sly but effective technique of allowing me to pick out one comic book during any trips to town, and encouraged me to choose carefully. In that way I was headed off from begging for whatever outlandish toy I might find. As a result, I began reading at an early age, and as time went by, I accumulated a substantial comic book collection. And I still have many of those comics to this day.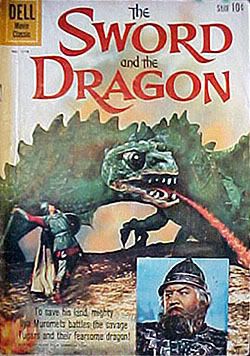 As I scanned the comic book covers, one immediately caught my eye: A huge, hideous fire-breathing dragon and a hefty guy in armor getting ready to have at it! The issue that I chose that fine day was the comic book version of the film The Sword and The Dragon. Many, many years later I would learn that the movie was Russian, originally titled Ilya Muromets, directed by the Soviet Ray Harryhausen, Alexandr Ptushko.

Recently I had the pleasure of seeing the original film on DVD, beautifully restored by Russia's Rusico film company, along with other Ptushko classics such as Ruslan and Ludmilla, Sadko, and The Tale of Tsar Sultan. I'm still waiting for Sampo, known in the West as The Day The Earth Froze, based on the Finnish Kalevala saga.

Released in the Soviet Union in 1956, Ilya Muromets is based on a well-known Russian folktale about a paralyzed hero (Ilya) who regains his strength to do battle against the invading Tugar tribe of vicious Tartars. He encounters a hurricane-breath demon (Nightingale), treacherous boyars, and, in the grand finale, the terrible three-headed dragon, Gorynich, which may have inspired Ishiro Honda and Tomoyuki Tanaka when they later introduced King Ghidorah in their Godzilla films.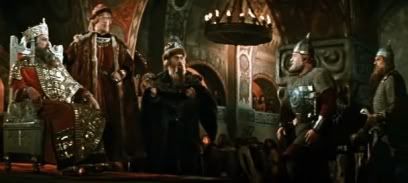 Ilya Muromets is an amazing film, my favorite of all Ptushko's work. He must have had the entire Red Army in use as extras during its production because its publicity information claims "A Cast of 106,000! 11,000 Horses!" The scenes of the massive Tugar army on the move are astounding. It is noteworthy too as being the first USSR film made in "SovietScope", actually Dyaliscope, the French version of Cinemascope, and it was the first Soviet film to have a stereo soundtrack.

Some of the best scenes in the movie come from the villains, the Tugars, especially their chief, Tsar Talin. Played by Uzbekistan's veteran stage and film actor Shukur Burkhanov, the ruthless Talin grins and leers as he gleefully declares, "I'm going to attack ... KIEV!" Burkhanov started acting in the 1920's but had to leave his family to be able to become an actor. The strict Islamic law practiced in his home region forbid one person from imitating another. Trained at the Moscow Art Theater and in the Stanislavsky School of Acting, his delightful performance as the evil Tartar in Ilya Muromets is in total contrast to the stodgy, serious Russian hero, Ilya, played by Boris Andreyev.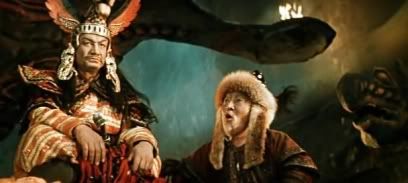 Epic films such as Ilya Muromets can now only be made via computer graphics. And I suspect it would have been impossible to finance such a movie in the West even during the 1950s. Only the cost-blind Soviet system could have produced such a spectacle. Let's hope that Rusico will continue to restore and release more classic films. Spasiba Rusico!

Gorynich The Dragon Attacks Kiev
Technorati tags:
fantasy
,
dragons
,
movies
,
films
,
Russia
,
Soviet
,
USSR
Labels: film, films, movies, Russia, Soviet Union