In Search of Buck Rogers and Commander Don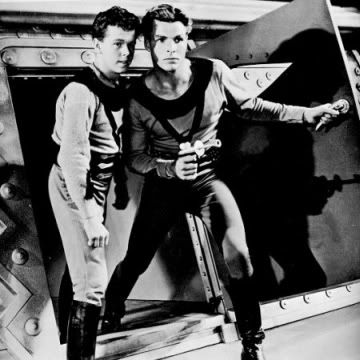 It was a drizzly, dark day, the kind that all eight-year-old boys detest. Stuck indoors and grounded by the inclement weather that Saturday morning in 1964, I started searching the Indianapolis Star's TV schedule, first to check what our local horror host, Sammy Terry, would be featuring on his late-night scary movie.

Remember, this was the television era when nearly all stations had locally-produced and hosted programs. WFBM Channel 6 had Harlow Hickenlooper (Hal Fryar) and cowboy-musician Curley Myers introducing Three Stooges films. WTTV Channel 4 offered the ghoulish Sammy Terry on Nightmare Theater. For the younger kids, there was Popeye and Janie (Jane Hodge), and a few years later Cowboy Bob (Bob Glaze) hosted the noon-time cartoon show Chuckwagon Theater.


As I scanned the Saturday schedule, I spotted something new: Buck Rogers on Channel 8. This immediately caught my interest. I had heard my father tell about the old Buck Rogers radio programs, and I had even seen a few reprints from the 1930s Buck Rogers newspaper comic strip in books at my local library. And my treasured comic book collection included Gold Key's 1964 single-issue Buck Rogers edition, too. I checked the time, and I was in luck. Buck Rogers would start in a few minutes!
After a first glimpse of that classic 1940 serial, I was hooked. There were rocket ships that looked like Civil War ironclads. Buck (Buster Crabbe) and his 25th Century crew used anti-gravity belts instead of parachutes. There was even a teleportation chamber that Buck used to get around the Hidden City rocket base, instead of an elevator.

And there was a show host, Commander Don, dressed in a flight suit coverall, sitting at a space-age desk as he commented on Buck's perils and adventures, as well as making an occasional plug for the show's sponsor. I recognized Commander Don as the host of another popular program, the Booby-Trap game show also shown on Channel 8. More on that later.

Now, to an eight-year-old, Buck Rogers was heady stuff. You must remember, too, that in 1964, science-fiction TV programs were scarce. Channel 4 had started showing the Space Angel cartoon series, wonderfully drawn by the great artist Alex Toth, and there was the occasional science-fiction movie on TV or at the local theater. So finding Commander Don and Buck Rogers as a weekly show was a great event for a kid like me.

Each and every Saturday I followed Buck's adventures and travels across the solar system as he battled the evil Killer Kane. By summer's end the serial concluded, and I was in Space-Age heaven when I saw that starting in autumn there would be a Flash Gordon program in the same time slot on Saturday morning.

That fall, as I watched the first episode of Flash Gordon battling the evil Emperor Ming the Merciless (played by the great character actor Charles Middleton) on the dark, mysterious Planet Mongo, a commercial break started. I realized then that there was no host, no commentary. Commander Don was gone. And I missed him. Sure, I was aware that Commander Don was a TV host working in a studio somewhere in downtown Indianapolis, and that he wasn't really some auxiliary space officer assigned to the Buck Rogers TV show. Nonetheless, I appreciated that the show had a real, live host, in uniform, no less. To my young eyes, Commander Don's presence had somehow added a degree of Space Age authority, a measure of legitimacy to the show. And as time passed and the years went by, I sometimes wondered what had become of Commander Don.
Now, time warp with me forty years into the future, from 1965 to the year 2005. While surfing the 'Net I discovered a charming web site about early TV programming in Indiana called
What Columbus Watched On Television In Shades Of Black And White
, created by David Sechrest. There was no mention of the Buck Rogers/Flash Gordon shows I had loved so much, but I was pleased to see that the Booby-Trap game show was remembered. But then I saw the passage that said: "Sorry, but I can't remember who the host of this show was."
This really bothered me. I made a pledge to find out who had hosted my beloved Buck Rogers and Booby-Trap TV shows, and I started searching. Unfortunately, as I soon discovered, there are scant records of those early days of locally-produced television programs. Commercial broadcasters have no business incentive to retain historical records. Many shows like WISH-TV's Buck Rogers and Booby-Trap were broadcast live in front of a studio audience, and if videotape was used, it was recycled, erased and re-used week after week. Very few locally-produced programs from that era still exist in any complete form.
I finally got a lead when I happened upon the
When Movies Were Movies
web site, created by former WISH-TV producer Dave Smith, who had hosted a popular movie series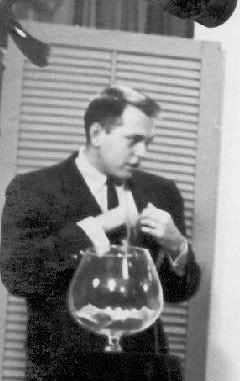 of the same name as the site. Dave remembered that the host of Booby-Trap was Don Abbott, who had also done radio work in Indianapolis during the early 1960s, but Dave had no recollection of the Buck Rogers series shown on Saturday mornings. He said he could verify this by contacting Don, now a producer of television programming living in Florida.
Emails were exchanged and, as I so fondly remembered, Don confirmed that he had been the one who donned an orange coverall and introduced the Buster Crabbe serials. I think, perhaps, Don was surprised and maybe a little touched that someone remembered his work in Indiana those many years ago.
Inspiration comes from many sources, and I was inspired to write a short story, a flash fiction, called
Outer Space Theater
that was actually a tribute to Commander Don. I submitted the story and it won a Special Mention for Flash Fiction at
Ray Gun Revival
, one of the best space opera ezines you can find online. I wanted to share my minor success, so I emailed a copy of the story to Commander Don, who received it with gracious praise for my efforts. In fact, Don suggested that we meet the next time he visited Indiana.
A few weeks later, I received an email saying that Don was headed to the Hoosier state to attend a wedding, and it would be a good opportunity to get together. We picked Franklin, Indiana, as our rendezvous point, so I began to prepare.
And what a meeting! Don arrived with his son-in-law, Greg, and we started sharing the stories of our lives along with many happy memories of the TV shows
Don had hosted. I learned that day that Don had tried to get the Parker Brothers game company to franchise his successful Booby-Trap game show. The execs turned down the franchise
sponsorship, but instead offered to buy the rights to manufacture the Booby-Trap game itself. I don't know about elsewhere in the country, but every kid I knew had the Booby-Trap game. Its little round, wooden game pieces filled toy boxes and covered living room floors all across Indiana. I can't remember how many times my finger got snapped by the game's spring bar. That was half the fun, of course. Don's deal with Parker Brothers earned him enough profits to later start his television productions in Florida.
I got an additional surprise that afternoon when we were joined by another Hoosier TV personality who is both well-remembered and dearly loved by his fans of all ages: Hal Fryar, known better as
Harlow Hickenlooper
of WFBM Channel 6's long-running Three Stooges Show. Both Don and Hal are members of the
Indiana Broadcast Pioneers
, and it was just a great pleasure to hear their accounts, anecdotes, and lots and lots of jokes. Both Don and Hal are true entertainers, and they kept me and Greg laughing. My time with them passed all too quickly.
As we said our goodbyes, I presented Don with a copy of the recent Criterion Collection DVD release of
Robinson Crusoe on Mars
, which, strangely enough, has a connection with both Don and Hal. In 1965 Hal and seven other Three Stooges show hosts participated in the making of
The Outlaws Is Coming
movie, which starred Moe, Larry, and Curly Joe. Hal played outlaw Johnny Ringo, but the connection was that the leading man was played by a pre-Batman
Adam West
, who also had a supporting role in Robinson Crusoe on Mars!
RCOM
was released in 1964, just a few months before Commander Don started hosting the Buck Rogers shows.
But, stranger still, is a detail in the
Outer Space Theater
story that I wrote. In it, the Commander Don character makes use of a piece of high-tech gear disguised as a Franklin half dollar which he keeps in his pocket until a crucial part of the story. Here's where it gets weird: Don told me that he has always carried a lucky silver dollar in his pocket, even showed it to me during our meeting. I had no idea, no knowledge of this when I wrote the story. Coincidence? ESP? Who can say? The universe is a wonderfully strange place, isn't it?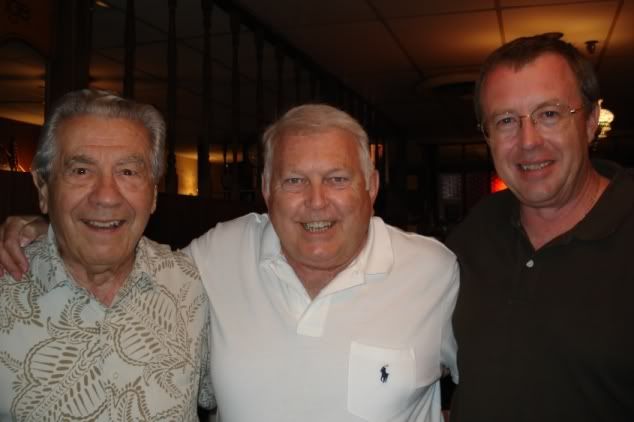 Harlow Hickenlooper, Commander Don, and Viktor Kuprin
D'os Vadanya,
Captain Kosmos
Technorati tags:
science fiction
,
sci-fi
,
sf
,
films
,
movies
,
writing
,
Buck Rogers
,
television
,
TV
Labels: Buck Rogers, Commander Don, Don Abbott, Flash Gordon, television, TV